What?! fsvgm777 TASing something?
Game objectives:
Emulator used: PCEjin svn194
Uses wrong BIOS (CD-ROM System V2.10)
Takes damage to save time
Frames: 944
Rerecords: 54
Enters a world full of shapes
Doesn't bother coloring any dinosaurs, because there aren't any in the game
Comments
Castlevania: Rondo of Blood is a platform game for the PC Engine developed by Konami. It is the tenth installment to the Castlevania series. The game takes place in 1792, where Richter goes to defea-- alright, screw that. The first time I've heard about Stage X is through some FAQ I was reading on GameFAQs (yeah...) and I was like "wait, there's a Stage X?". I've checked for myself and guess what, it does exist! However, a BIOS other than the Super CD-ROM² V3.00 one is required to get to Stage X (for instance the one I used in this run). So... moving ahead onto the...
Stage by stage comments (yay)
Stage X
When I first started this, being the fool that I am, I thought that you can't take any damage from the 2 enemies... until I realised that you can actually save some frames by doing so. The first jump shows the shaped Richter getting hit at the earliest possible frame and the second one shows Richter getting hit at the last possible frame. The stage (and run) ends with a message in Japanese that the Super CD-ROM² V3.00 BIOS is required in order to fully enjoy this game and with a shaped Maria jumping at the same spot. All the time. And joyfully, at that (just look at her expression when she jumps).
Other comments
The run is pretty much "perfect", which means that you probably can't improve it any more. *cue baw here* I'd like to thank the PCEjin authors for making this run possible. Suggested Screenshot: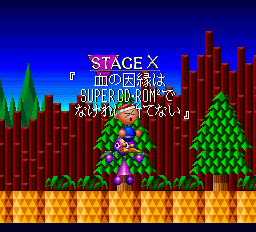 Encode: Go make one yourself! With that being said... The end.
---
fsvgm777
: OK, April Fools is over. It's time to send this to the Grue.