Batman Returns for the Sega Master System, like its cousins, is a sidescrolling action game based upon the 1992 Batman Returns film. Batman can use his Batarang to attack enemies with 1 and can jump with 2. By pressing 2 quickly in mid air, Batman can swing around with his grappling hook. Batman can also glide in the air by pressing and holding 2 in mid air. There are a few power ups in the game which can be acquired by hitting the bat symbols with Batarangs. The red symbol gives one extra life, grey symbol increases power and speed of Batarangs, and the yellow symbol increases the Batarangs' speed (Disputed). Source:
http://segaretro.org/Batman_Returns_(Master_System)
A friend (really?) lend me this hard-laggy-awful mechanics/rope physics-monster hurtbox game as kid... Even though, I had to play it to death cause those times were hard as you know... I found the skip glitch one day cause I didn't realize that the truck was a barrage. (I picked route 2 cause I was thinking it skipped route 1, useful mistake)... Despite this fact, I wasn't able to beat Oswald (or reach him often, Tas power gave me my vengeance, and let me save Gotham!). (Route 2 is the hard mode...and allows you to do the skip glitch at 5-4, while route 1 has the skip at 5-3.)
Game objectives
Emulator used: BizHawk 1.9.3
Uses hardest difficulty
Uses death to save time
Abuses major skip glitch
Stage by stage comments
Batlag... luck manipulation to prevent the crazy rolling enemies which spawn everywhere... batlag... adjust this near perfect required batrope execution... batlag... manipulate Oswald pattern...
Comments
Bat-land cancel : use bat-grappling a few frames before landing Bat-arang cancel : jump a frame after shooting Bat-warp : pass the stage 1-2 transition during respawn invincibility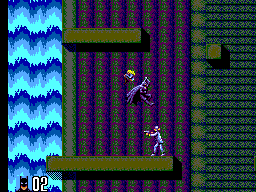 3981
---
Mothrayas: Fixed movie file to add PAL flag.
Mothrayas: Reverting because the new movie does not sync. This means the run most likely has a
region settings
issue. Mothrayas: This movie was recorded in NTSC mode, although the game is only released in PAL areas (Europe and Brazil), and as such the game runs faster than it should (~60fps instead of ~50fps). The movie does not sync if the game is set to PAL mode. This unfortunately means that this movie
breaks the rules about recording with the correct region settings
, and as such this run has to be rejected. Putting the region issue aside, this run was nice, short and enjoyable - I hope to see a version that syncs correctly with PAL settings. Mothrayas: Unrejecting and accepting to Moons as per
this post
. The Brazil release of the game runs in PAL-M (60fps), so this movie can be considered to run at a valid speed setting. My apologies to the author and anyone else involved.
fsvgm777
: Processing.