You
can't TAS a bowling game
unless it has some sort of
challenge mode
.
Spikestuff why are you like this? Good Question.
Unfortunately for the game not going for the manipulation is faster than going for the manipulation.
As long as you finish each "hole" in 185 frames when the ball is bowled it doesn't matter what layout you get. There's really not much to talk about so just have this gif of normal bowling.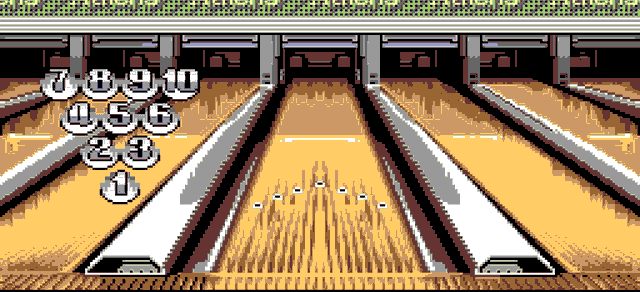 ---
Memory
: Judging despite the misleading mode name.
Memory
: So the mode name made me think that this was going to be some bowling golf hybrid where you throw a bowling ball on golf courses. I was extremely disappointed to find out that was not in fact the case, and it was simply a sort of bowling challenge mode where it uses the scoring system of golf. So the character here is quite cute, another to add to AdorableVideos, but aside from that the TAS is really repetitive and boring. As
Samsara pointed out
, we do have a similar sort of challenge mode accepted with
Nester's Funky Bowling
. Additionally, there are rules restricting sports games based on series and platform, but since this is a completely different series and platform from any other accepted bowling runs, it should be acceptable. Accepting to Vault.
fsvgm777
: Processing. Zinfidel is handling the encodes for this one.