Wat.
Extended Input for Publisher if they want it
.
Headers go to an 8K encode (why spike) of their own Chamber/Room. Crimson Room is an Escape the Room type game. There is 3 versions of this title. The original flash series, this DS version and the PSP version.
Each version is different from one another in terms of how movement and selecting pieces to a puzzle in terms of how the game operates.
The solutions match each-other with some slight variations in making the solution, but nothing to drastic.
It's not fair to bundle up the 3 versions and call them collectively as the same as they're their own thing. There's also a fourth Crimson Room; Decade. But that's a completely different game where the events of the first escape room is looked into 10 years later. Because the input is basically superhuman I'm not going to explain anything about the solutions as they're all basically predetermined. The game is mostly hex friendly aside for the few changes in seed here and there (and the minor code changes to RNG).
Skipped a PDA that would give you the code
Straightforward chamber, just grab everything in an counter-clockwise order and unlock the safe.
Skipped a frame
Skipped two photos
Skipped looking into those pills that tell you the hiragana/katakana layout
Skipped burning up the scribbled paper which reveals the location to where the syllabary is positioned
The order in which I do things saves time in the long run.
If I put the CD in the case after doing the dice I would have 3 additional prompts to deal with compared to none.
Doing the dice after CD saves that time even if I have to look at my inventory for a touch longer. The beer must be grabbed
after
completing the dice.
Grabbing it beforehand does not prompt the completion and luckily it helps management by not grabbing until after. My mood summarised: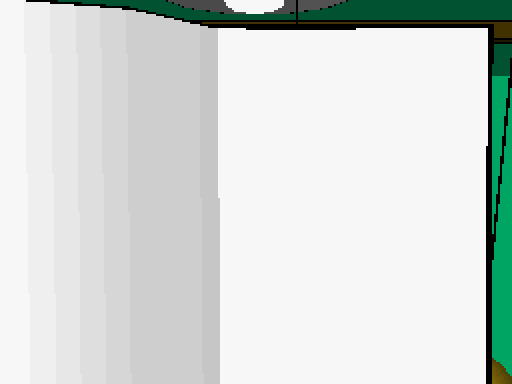 Everything's in order... just basically go through it quickly.
There's some stuff that's in the ceilings and in the book, they're skipped over.
Need the stupid binoculars to see the stupid code, so you can have confirmation about it stupid bloody smart radda frickin' radda radda
rants off in the distance
. Screenshot Suggestion: "HELP" (frames 36186 to 36326) Oh and the emulator settings are on default. :V
---
Samsara
:
Samsara
: Optimization looks on-point (and click). Admittedly, when the original
Blue Chamber TAS
was submitted, I had my doubts on whether or not it was non-trivial enough for publication. It's an incredibly straightforward chamber, no skips, and most of it is waiting. Thankfully, the other chambers are substantially less trivial, with TAS only skips (the codes are randomized and thus unknowable ahead of time to normal players) and a little more actual action all throughout. Given that it is still just a pointing alongside clicking adventure, though, the entertainment is a tiny bit lacking, even with delightful appearances from my four favorite characters: Skeleton Friend, Mostly Blank Book, A Motorcycle, and The OK Guy, who, I must admit, is a pretty OK guy. With a mostly lack of audience feedback, not particularly great entertainment voting, and full completion met, I'm
rejecting this like you wanted
accepting this run to Vault.
fsvgm777
: Processing.