Yeah, finally done! My first try of 100% of this hack! It's quite optimized but it's entertain so please enjoy ;)
Emulator used:
Snes9x v1.43 +v13
Goal of the run:
Trying to bring something entertainment :P
Try to complete the game as fast as possible (it's in-game timer! Since there are plenty of items and door transitions, aim for real-time doesn't sound nice :P) (actually I'm bad at real-time ==") And in-game completed time is: 44:33.25
Take damage to save time
Manipulated luck
About the hack:
Oh, Cpadolf wrote quite details about this in
his run
, plus my English is not good, so... :P
Main content: items of this hack
Besides Samus' equipment (14), there are 28 Energy Tanks, 46 Missile packs, 25 Super Missile packs, 25 Power Bomb packs and 4 Reserve Tanks, in total of 144 items! Each item takes 400 frames to play the collecting music, that means 144 items will take 57600 frames (=960s =16m) (Exactly 16 minutes just to hear the collecting music XD) Each Energy Tank values 50, Missle pack values 5, Super Missile pack value 2, Power Bomb pack value 2, Reserve Tank value 100
, it's quite details, you can view the original at
metroid-database
Specific items:
3 Unknown items: they are Plasma Beam (in Tourian), Space Jump (in Kraid's lair) and Screw Attack (in Ridley's lair), they're only functional after getting Gravity Suit, and you must get them all to be able to reach to Gravity Suit
Note 1: These 2 Missile packs and 2 Energy Tanks can only be acquired on the escaping way after killing Mother Brain, but you can come back later!
Note 2: The Power Bomb A will disappear after Mother Brain's death, meanwhile the Power Bomb B can only be acquired after that!
Note 3: This Missile pack is very difficult to get! First, to be able to get to its room, you must destroy the shuttles infront of it, and they can only be destroyed with combo Plasma + Wave + Ice Beam, therefore you have to get all 3 Unknown Items and Gravity Suit. Second, you have to do X-Ray climb up, Crystal Flash and carefully space jump (or bomb jump) above 1-way brige!
Note 4: These items are only available after Mother Brain is death, therefore, a de-tour to Tourian is a must!
The Power Bomb C in Tourian and the Power Bomb D in Chozoria are related to each other, if you get 1 of them, both will disappear
X-Ray Scope is place neither in Tourian or Pirate Ship, and of course you can only get 1. The one in Tourian will disappear after Mother Brain's death, and the one in Pirate Ship requires to unlock 4 locks (they're not Security Locks) to get, therefore, get it in Tourian is faster!
Note 5: With or without TAS, you do need Wave Beam to be able to get it
Note 6: This Missile pack is very difficult to get in real-time, but it's not hard with TAS! All you have to do is keeping your speed echoes and avoid the laser beams (if you touch them, the shutter infront of that Missile pack will shutdown immediatly and it cannot be destroyed by anything! If that happens, you have to get out of the room and come back ;)
Note 7: This Missile packs can only be acquired after killing Draygon and have saved the animals, therefore it will be the last item to be obtained!
Note 8: This Missile pack is not as easy to get as it's be seen! You must avoid the Alarm in the Ship, and unlocked Security Lock 2 and 4!
Oh, Missile in this hack is very useful, since its dealy is 5, it's better than Super Missile at boss fighting!
Special thanks:
SB: for creating this awesome hack :D:D:D
Kriole: for showing me speed-trick, thank to him, this run is really speed up :D:D:D
Cpadolf: for giving me a lot of ideas by watching his run :D:D:D
lxx4xNx6xxl, Eye Of The Beholder, Tub: for supporting my run :)
JXQ: for giving me an up-to-date SMILE so I can see the map easily!
spweasel: for correcting me :P
Further improvements:
If this run's fall into Cpadolf's or Kriole's hand, I'm sure it will be better ;) Since they have obvious eyes to judge if there's any frame faster!
Yeah, I didn't take full advantage of "14 frames countdown" Speed Booster trick (What is it?! When you're shinesparking into spoiler, you have 14 frames to shinespark again without having to sitdown to charge (actually only 12 frames in action) I just realized later! But to be correct, I only miss 2 at Kraid's lair (which I can't come back duel to my time), but overall, I use it as much as I can!
The route is quite optimized, but taking Missile #3 before Mother Brain seems better (then you won't have to avoid refilling Reserve Tanks)
Yeah, if someone wants to improve this run (or even the any% run), we can continue discussion here
Anyway:
Please enjoy the run! :3:3:3 Oh, preview here:
http://www.youtube.com/watch?v=7awvzQffUt8
Screenshot:
(not suggested :P)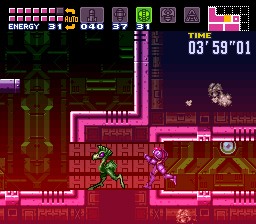 ---
Nach
: This run may not be perfect (which is quite hard to notice), but it was entertaining, and had great audience response. Accepting.
Velitha
: Processing...