Game objectives
Emulator used: FCEUX 2.1.6 (syncs on 2.1.5)
Take damage to save time
Comments
It's my favourite NES game and one of the most colorful games with fantastic music. I used Normal difficulty to make improvements countable, because Hard has more enbemies and more Boss HP and TASing it may appear slower. After
one guy
's suggestion how to improve the Toxic Factory level I decided to start this run, while the wish to do it was born in me long ago, because I didn't like how the game was played entertainmentwise. I used my own
maps
of the game and
this script
.
Stage by stage comments
The first level started 9 frames faster
Toxic Factory
Saved 148 frames. Attack while jumping several times to prolong the jump length. Each jump costs 15 frames due to it's animation. Less jumps you do - less time you lose. Boss was manipulated to spawn second time sooner and where I want him to.
Oil Rig
Saved 111 frames. Used max' trick to jump through the floor climbing on pipe holes. Boss was beaten faster due to last hit and jump that allowed to fly away faster.
Rescue Jeremy
Saved 8 frames. The battle is the same timewise, but I made the last jump faster to start falling down sooner.
Railway
Lost 69 frames. Lost some time due to ninja-style movements causing lag, the stage was improved stylistically instead.
Acidic Forest
Saved 16 frames. Improved the Boss fight and jumped a bit to increase my height, like in Oil Rig.
Cave
Saved 32 frames.
The Cesspool
Saved 72 frames. Jumped much higher near the end.
Scrap Heap's Heaven
Saved 80 frames. Used more powerful attacks.
The Imposter's Hideout
Saved 120 frames. Didn't throw the Imposter over, that caused a long invulnerability period in the previous movie.
Lord Contaminous 1
Saved 148 frames. Improved the jump/hit timing to hit the Boss just after the invulnerability period stops each time.
Lord Contaminous 2
Saved 3 frames. Lag reduction.
Special thanks
To AnS for almost finished
TASEditor
, that now has Markers, Branches, Auto-restoring playback position after input was changed and a bunch of other cool features.
Suggested screenshot
Eco-violence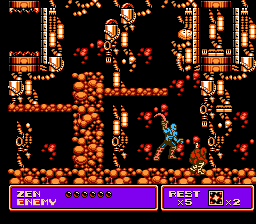 ---
Mukki
: Judging...
Mukki
: Accepting as an improvement to
the currently published run
.