Metroid Super ZeroMission v2.3 "all items"
---
Hi, it really took year to complete this TAS :D This is my 2nd try of this hack, but this time it's version 2.3 (latest version in normal)
Emulator used:
Snes9x v1.43 +v13, sorry for the outdated version, but I started this TAS from long time ago!
Goal of the run:
Aim for fastest in-game timer (completed time is: 44:43.77)
Take damage to save time
Manipulated luck
Collect all items
Differences between v2.3 and v2.0:
Door transition has been speed up, that was why this TAS faster in realtime!
1 Super Missile and 1 Missile are now easy to get, without having to wait!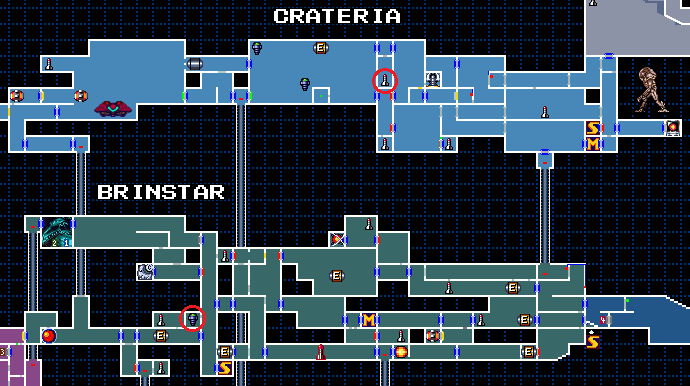 This Missile pack now can get from the bottom
v2.3 has 1 extra Missile pack (on the room next to Draygon, and requires killing all boss) therefore the final percentage now is 101%
Run details:
I decide to collect and refill as many Missiles as I can for the first boss Bomb Torizo, and yes, it's faster than just use Normal Beam!
Than I go for the 1st Super Missile. On this version, the author fixed Grappling Beam glitch to 1st Super Missile, so I have to use Bomb Jumping!
Because I have to kill all boss, I go straight to Kraid lair and kill Kraid for Speed Booster instead of going from the back.
Unlike my last run, that gets the 1st Power Bomb in Norfair, I go to Tourian and use "jump through ceiling" trick to get it, then collect 2 Unknown Items on the way back to Kraid lair, this way I saved 1 elevator waiting!
The "avoid scrolling" trick for Power Bomb in Kraid lair is now disable (or I must go from the right), this is slower than 1 second compares to my last run.
Now I go "suitless" to collect all items in Norfair and Ridley (save Ridley and 1 Energy Tank later)
Go to Chozodia for Gravity Suit. Plasma charged cannot register 2 hits to Torizo in this hack!
...
Special thanks:
SB: for creating this awesome hack :D:D:D
All friends for supporting me for my first try of this hack!
Please enjoy the run! :3:3:3
---
Nach
: Apparently this TAS was started in August 2011, putting the majority of the work involved prior to the cut off date.
---
Nach
: Judging.
---
Hoandjzj: Thank Nach :D
---
Nach
: Nice job! Accepting as improvement to existing run.
feos
: Processing...