Title(-1,-1)
Because of different emulator, I get 1 lag frames.
1-1(1,0)
Choose another way, and save 1 lag frames.(it's not the reason of emulator)
1-2(10,10)
A better boss fight. And keeping the fastest speed when catch the bubble, meet the bird face as fast as possible.
1-3(-1,9)
Bad luck. The first enemy which I caught moved 1 frame later.
4-1 3-1(0,9)
Nothing.
5-1(11,20)
9 frames in better action, and 2 frames in boss fight.
5-2(71,91)
Max speed jump on vine and other manipulate(82 frames) help me touch the frames rule.
Birdo fire eggs or fireball at 64, 128, 192 in 0x000010 frames rule address. She fire the first egg at 64 in this movie.
I press start in boss for keeping Birdo on the rightmost.
5-3(10,101)
Better jump on ladder.
7-1(143,244)
I choose princess
Peach
. Because Peach has a higher jump speed than Luigi, and only slower in boss fight. I think even use Luigi too, it still can be saved more than 100 frames.
Before take the rocket, Peach is 6 frames slower than Luigi(in my Luigi test, this number is more than 10 frames).
But after the rocket, Peach is only 1 frames slower. I don't know why this 1 frames happened.
Before boss fight, I have saved 165 frames, and only lose 22 frames in boss fight.
7-2(20,264)
I have tried my best and saved 48 frames(50 frames-rule frames and 2 lag frames) before the final boss, though I touch the vegetables' 256-frames-rule, but I fail to touch the final boss Wart's frames rule line, need the last 20 frames. Only when he spit the bubbles I can hit him only once.
need 20 more frames
So I have to cost some frames to against lags. Luckily, I catch the vegetable at last few frames.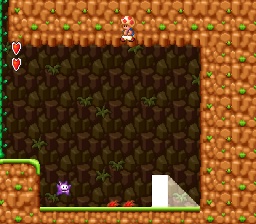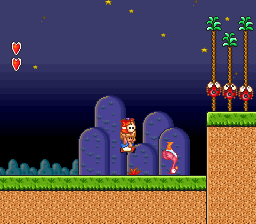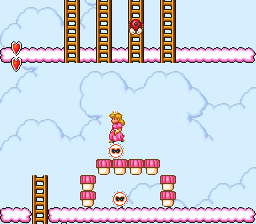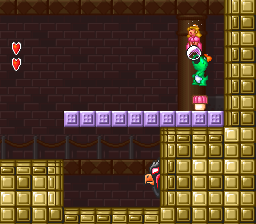 ---
Masterjun
: Judging.
Masterjun
: Great optimizations overall. Accepting to Moons as an improvement to the
previous run
.
thecoreyburton
: Processing.