Game objectives
Walkthrough
1-1(44,44)
Use Shyguy glitch.
1-2(11,55)
Get and use carpet more quickly(8 frames), and save another 3 frames in boss fighter.
1-3 4-1 4-2(0,55)
Copy the input.
6-1(9,64)
Save 7 frames when play the sand, and 2 frames in boss fight.
6-2(66,130)
4 frames of a little far flying. When Peach falling, don't press A at first time, and she will fly a little far, because she will fall twice.
62 frames saved in boss fight. This the biggest improvement in this tas. No need higher jump anymore.
6-3(6,136)
I saved 4 frames before boss fight. Because of the frames rule, I must wait boss fire egg, but I have the enough time to choose the best chance. 2 frames saved after the first boss, and I save another 4 frames
7-1(32,168)
I saved 23 frames when climbing, and 9 frames in boss fight.
7-2(9,177)
I cost more than 30 frames to saved 9 lag frames. This picture show the biggest improvement.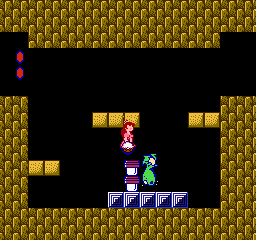 ---
Masterjun
: Judging.
Masterjun
: Replaced file with a 48 frame improvement.
Masterjun
: Great movie! I love all the small optimizations. Accepting to Moons as an improvement to the
previous run
.
feos
: Pub.