This game by (pre-Final Fantasy) Square is an attempt at a 3D title on the NES. In a way, this game is a predecessor to the myriad of modern endless-runner games available on various platforms (primarily smartphones). One major difference is that this game (thankfully) isn't endless. Basically you run forward while avoiding enemies, pillars, and gaps in the ground. At the end of each world is a boss battle. Stars can also be collected for bonus points. There are eight worlds each with three to four subdivisions. These divisions are continuous with each other. This game is probably best described as a pseudo-autoscroller. We use 'pseudo' for the following reasons:
BizHawk 1.13.1 (Actually both versions 2.2.2 and 1.13.1 were used to make this run. The .bk2 file will sync with either version, but will show up when being loaded as a movie made in version 1.13.1)
Suggested Screenshot
---
feos
: Judging...
feos
: First of all, it's been suggested that it's an autoscroller game. As already mentioned by the author(s), it's not. Pressing Up and Down changes your running speed, also some things can bounce you backwards. Yet I asked myself, is this game still trivial given that you hold Up and avoid touching anything? To answer that, I checked out the current
RTA world record
. Its first level from level start up until boss fight is slower than this run's, and the boss fight is slower as well. If even the people that have enough skill to get a speedrun world record can't beat this game's easiest level as fast as this TAS, then it's obviously not trivial. Even if it was an autoscroller, it's never been a problem, even our Movie rules don't mention anything about autoscrollers that could disqualify them. Even things like
[2141] NES Disney's TaleSpin (USA) by Thorning in 17:18.02
are fine, as long as there's at least something to optimize. So in that regard everything is good. Second, difficulty. Movie Rules say that
you can use a code to unlock the hardest difficulty
. And this difficulty is objectively hard in this game, as it makes all the dodging harder, RTA or TAS, not simply changes every enemie's hitpoints. So it's acceptable. Third, tier. No matter how hard you try to entertain, the game itself is incredibly annoying to watch unless your tastes are strange enough to like the same short music loop (consisting of basically the same melody) being played for 20 minutes straight, identical levels consisting of the checkerboard scrolling for 20 minutes, and gameplay where all you need to do it run left and right and jump on the pillars for 20 minutes. Bosses add some so-called variety, but not when you get rating like this: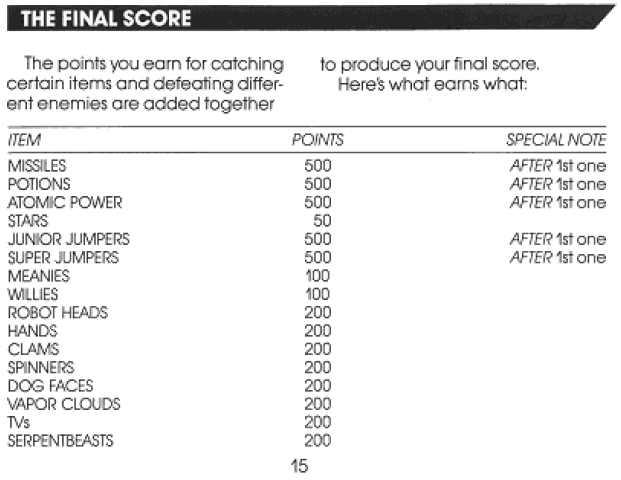 So they are officially and objectively useless, for normal play as well as for a TAS.
Quoting Vault Rules:
Maximum points or score is allowed as a full-completion category, provided that:
There is no better way of defining full completion in the game.
The maximum score is easily defined and absolute - it must not be possible to gain a higher score, even theoretically. It must be definable without being dependent on precise time, speed, or similar requirements.
The maximum score is limited by not being able to gain any more points, not by hitting a score cap or overflow. If it is possible to score points infinitely, score cannot be used to define full completion.
Not that any of that is aimed for in this run, just felt like discussing it for future reference, and because there's no detailed explanation why stars don't belong to full completion for this game. Accepting to Vault. "Hard mode" should not be in the branch, because there are no counterpart runs for this game using normal mode, and otherwise we normally don't label hard modes.
feos
: Almost 3 weeks ago I judged it. Will publish after DK.