Emulator Resources / P Cem / DOS
<<
Emulator Resources / P Cem
<<
Emulator Resources
The entirety of the
general guide
applies here, this page will give you specific instructions and tips for using DOS in PCem. You can use
this boot floppy disk
or your own.
Table of contents [
expand all
] [
collapse all
]
Hard drive
After you boot PCem with the boot disk in the floppy drive, eventually you'll be met with an A:> prompt.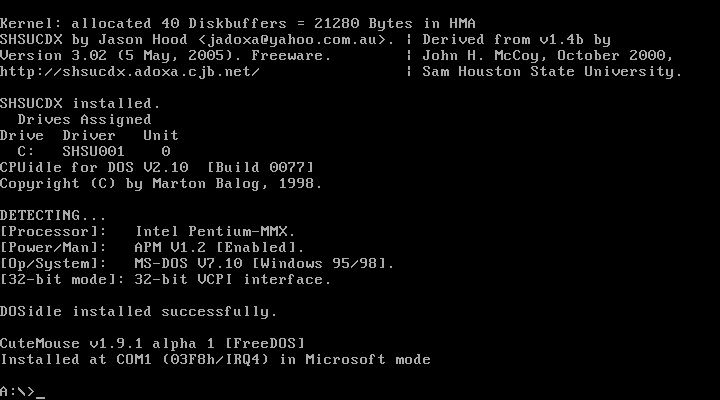 Any good boot disk will have FDISK and FORMAT on it.
Partitioning
Type "fdisk" into the prompt and hit Enter.
Say yes to large disk support.
Choose option 1 on the next menu to create a DOS partition
Pick option 1 again to make a primary DOS partition.
Say yes to using the maximum available space and making it the active partition.
If all goes well, you should see a screen like this: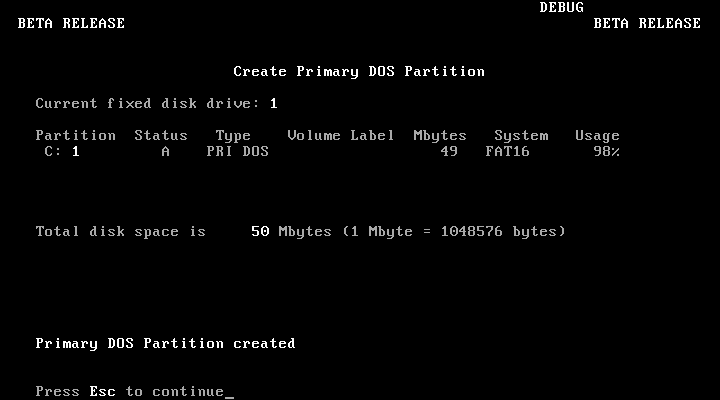 The drive is now partitioned. Escape out of FDISK and restart PCem like it wants you to.
Formatting
Now it's time to format.
Let the system boot up again and get to the A:> prompt.
Type "format c:" and press Enter.
You'll get a warning that all data will be lost, but there is no data anyway, so say yes.
Give the volume a name (or leave it blank) and hit Enter.
You should see a screen like this once it's finished: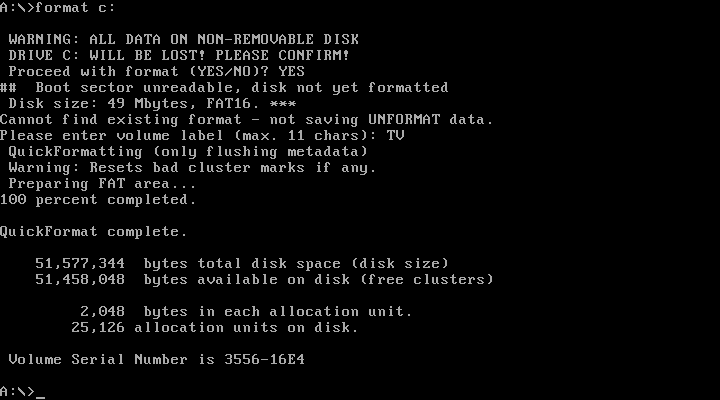 The hard drive is now ready to be used. After you install your game and get libTAS set up, you should be ready to start TASing at this point.
Note
You can press F8 after the POST screen to step through each line in fdconfig.sys and autoexec.bat. Only do this if you know what you're doing, but you can use this to skip loading things like emm386, ctmouse, and/or the CD drivers.
---
EmulatorResources/PCem/DOS last edited by
feos
on 2019-10-11 20:05:12
Page info and history
|
Latest diff
|
List referrers
|
View Source