This chipset needs a special diagnostic disk. Without this disk, it's impossible to make important changes to the BIOS like specifying the hard drive type. It uses a common 720K disk that works across many Compaq Portable and Deskpro models, and it has an MD5 hash of
09652bd116a0af7ed006996b001ab9c9
. You can find one yourself, or use the following instructions to make one. You will need
SP0308.EXE
(md5:
aa6991bbe7449109671508eb27630629
) which is inside
SP0308.ZIP
. This is the SoftPaq Diagnostics 8.00 Rev. B (DP256) utility once distributed by Compaq, which is now owned by Hewlett Packard.
Make another configuration identical to the
previous one
, except in the Drives tab, set FDD2 to 3.5" 2.88M and eject any hard drives. You will need three disks for this process.
Grab the FreeDOS v1.2 boot floppy from the
FreeDOS website
in
FD12FLOPPY.zip
. The md5 of
FLOPPY.img
is
36689ac4152d8efb13ab230e9aea46ec
.
Make a blank 1.44M floppy image and copy
SP0308.EXE
onto it. You can do that with the following terminal commands:
   mkfs.msdos -C /path/to/sp0308.img 1440
   sudo mkdir /media/floppy1/
   sudo mount -o loop /path/to/sp0308.img /media/floppy1/
   sudo cp -R /path/to/SP0308.EXE /media/floppy1/
   sudo umount /media/floppy1/

You will get inconsistent hashes for this image, but it doesn't matter.
Make a blank 720K floppy image; this will eventually be your diagnostic disk. You can make this with the following terminal command:
   mkfs.msdos -C /path/to/compaqdd.img 720

Again, you will get inconsistent hashes for this. This can be fixed by specifying the volume serial number with the
-i
parameter, but it ultimately will not matter. Launch this new config in PCem. While the system is counting memory, with the right-click menu, change drive A: to your
FLOPPY.img
and change drive B: to your
sp0308.img
. You will get some error after the memory is done counting, press F1 to resume and the computer should boot using the FreeDOS floppy. FreeDOS setup will start, but we don't need to install it. Select
English
as the language and then select
No - Return to DOS
. This will take you out to the DOS prompt. Type
B:
and press enter to go to the B drive. Use the right click menu to swap drive A to
compaqdd.img
, the blank 720K disk. B has the setup program on it, so type
SP0308
into the prompt and press enter. The setup program will bring up some legal warnings, press enter, PgDn through the license agreement, then enter "AGREED" into the box at the end. The setup utility made some new files on the B drive, namely
QRST.EXE
. In the DOS prompt, type
QRST
and press enter. The new program will ask what type of transfer you want, select
All diskettes in the set
(there is only one anyway). It will ask for a blank 720K disk, which you should already have in the A drive, so press enter twice. Wait for the program to finish writing the disk. When it's done, it will kick you back out to the DOS prompt. Close PCem.
compaqdd.img
should now be a working diagnostic disk. Check the hash of it, it should have an MD5 of
09652bd116a0af7ed006996b001ab9c9
. If it doesn't match the hash exactly, it may still work fine.
At this point, you can run the verification movie if you want our exact hashes:
http://tasvideos.org/userfiles/info/73801777262948657
Launch the config (the original one, NOT the one for the diagnostic disk) and wait for the memory test to complete. When prompted, load the diagnostic disk image into drive A: and press F1. You will see a memory test error, this is normal.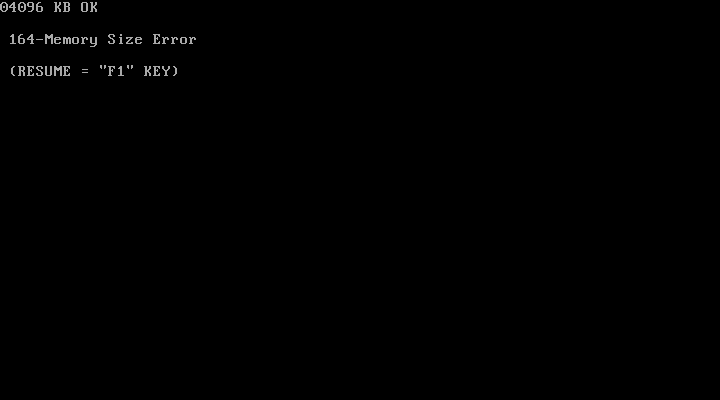 On the screen with the Compaq logo, Press Enter to continue setup.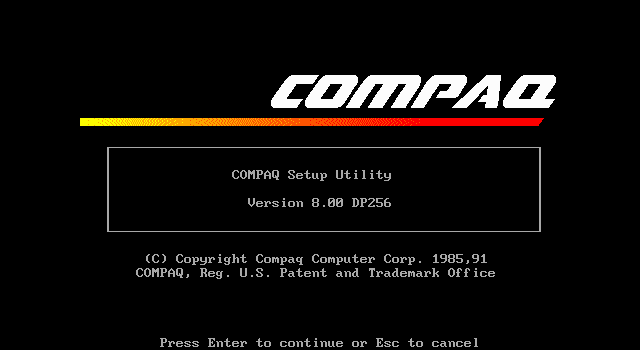 There will be another memory size error screen, press Enter. Put in any valid date and press Enter (libTAS will override this). It will then tell you your configuration was updated, press Enter again. After reaching the "System Configuration Summary" screen, press F4 to Change Configuration.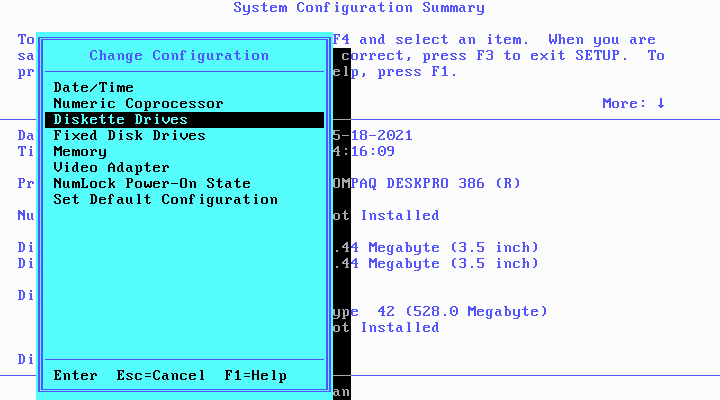 Select the Fixed Disk Drives option and press Enter. Select "Other Type" for Disk Controller 1, Fixed Disk 1 and press Enter. Type in 09 for the drive type and press Enter.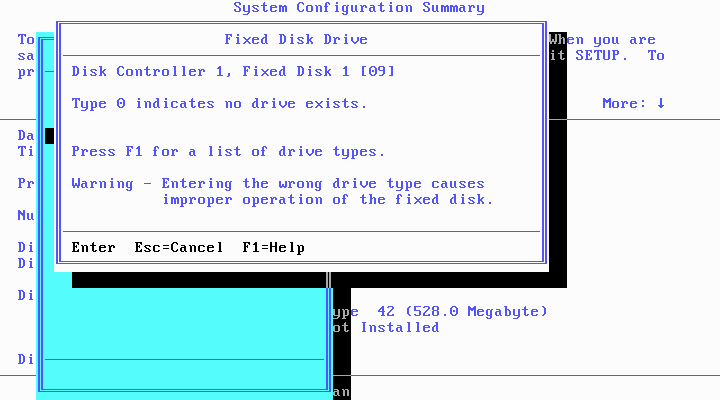 Set Disk Controller 1, Fixed Disk 2 and Disk Controller 2, Fixed Disk 1 to type 0. Back at the Change Configuration menu, select NumLock Power-On State and press Enter. Change it to On and press Enter. Press Esc to close the Change Configuration window. Note that both disk drives are set to 1.44 MB (3.5"). For drive B:, this is not correct, but the 5.25-inch choices cause boot errors, possibly a problem with PCem. Drive B: will be able to read 5.25 inch disks regardless of this choice. Press F3, then select Exit and save changes. The PC will restart and look for bootable media. Eject the diagnostic disk from drive A: and proceed to the
FreeDOS Installation section
.
---