So you don't have enough friends to play crazy eights, or poker, or cribbage, or even war? What about solitaire? Oh, you don't have a deck of cards. Well you should try the NES version of solitaire! Well… maybe not, it's a pretty shitty game, with very repetitive music, and bad graphics. So how about watch someone else destroy it in 47 seconds? This movie will provide you with almost a full minute of action-packed card sorting action at its most action-packed finest. And even those people with the worst ADHD will find it hard to become bored in such a short time (you know who you are).
Some information:
Aims for fastest completion of one game
Plays at hardest level (3 cards drawn as opposed to the easier 1 card drawn)
FCEU version .16 used
By pressing start on frame 4 I am able to skip a long intro screen, however it glitches the start screen so that the cards disappear once they land. Normally the cards land and spell out "SOLITAIRE", with some credits underneath, but instead you're treated to some nice green. I delay the start of the game at the options screen by 1 frame because of better card placements compared to the "optimal" start. Also, the music may seem to be rather messed up, but that's caused by the cursor moving at such a fast pace.
While this is an April Fools submission (because it's so off the wall), I do think this game makes a suitable TAS, and may even lead to "Solitaire Wars", similar to those seen with Monopoly a while ago. But if people don't like it, it's understandable. Anyways, enjoy!
---
NesVideoAgent
: Hi! I am a robot. I took a few screenshots of this movie and placed them here. Here goes! Feel free to clean up the list.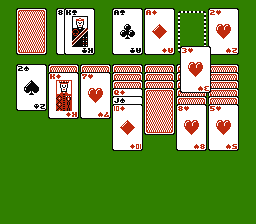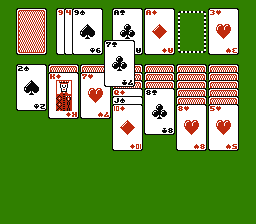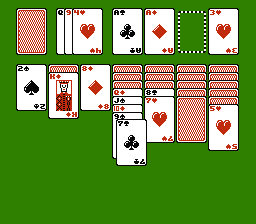 ---