Welcome! Are you new to the site? If you've ever wanted to see how a superhuman would beat your favorite video games, you've come to the right place. We have videos of all the popular franchises: from
Super Mario Bros.
and
Sonic the Hedgehog
down to
Pokémon
and
Final Fantasy
. No matter what genre of game you prefer, be it adventure, platformer, puzzle, shooter or sports, we have them all. Please, visit
our welcome page
for an introduction, or check out our
Newcomer Corner
for some hand-picked recommended videos to watch.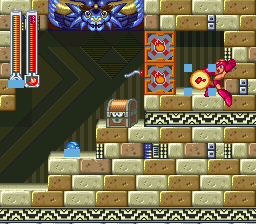 Watch
Rockman & Forte (ロックマン&フォルテ), known as Mega Man & Bass in the western world, used to be the last game in the original Rockman/Mega Man series, until Rockman & Forte Mirai kara no Chōsensha (ロックマン&フォルテ 未来からの挑戦者) was released for the WonderSwan.
This time around, Dr. Wily has his own creation turned against him, allowing the player to use Mega Man or a bad guy!
However, in this run, the players only use Mega Man and collect each and every CD in the game, which shouldn't be possible using only one character. Then again, many things happen in this movie that weren't intended to be possible.
This run is a collaboration between
sparky
, the current author of the other branches for this game,
parrot14green
, the author of the previous "100 CDs" run, and
woabcfl
, the author of the
Rockman no Constancy
runs. It improves
the previous movie
by 01:40.97. You can read the
authors' comments
for more details.
Latest Publications
Newest Submissions
| Date | Game | Time | By | Status |
| --- | --- | --- | --- | --- |
| 1 day ago | SMS Rocky | 03:36.95 | ShesChardcore | New |
| 2 days ago | SG1000 Wonder Boy | 06:26.13 | Darkman425 | New |
| 2 days ago | NES Tennis | 11:16.00 | eien86 | New |
| 2 days ago | NES Donkey Kong Jr. Math "Calculate B" | 00:41.28 | ShesChardcore & MarioAtWork | New |
| 4 days ago | NES Yie Ar Kung-Fu | 01:39.99 | ShesChardcore | New |
More…
Newest User Files/WIPs
Contribute
Want to
help
? Everyone has something they can contribute.