Welcome! Are you new to the site? If you've ever wanted to see how a superhuman would beat your favorite video games, you've come to the right place. We have videos of all the popular franchises: from
Super Mario Bros.
and
Sonic the Hedgehog
down to
Pokémon
and
Final Fantasy
. No matter what genre of game you prefer, be it adventure, platformer, puzzle, shooter or sports, we have them all. Please, visit
our welcome page
for an introduction, or check out our
Newcomer Corner
for some hand-picked recommended videos to watch.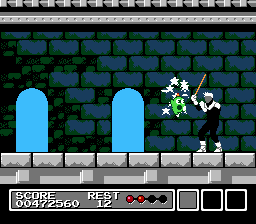 Watch
A short Japanese game about a small green toy who can summon stars to help him defeat monsters and to use them as platforms to reach high places and travel fast.
In this movie, the authors collect all of the items to enter the secret 7th level after the boss at the end of the 6th level, and do so 2 minutes and 15 seconds faster than the
previous movie
.
The game cartridge of Gimmick! contains a special microchip, FME7, which extends the number of sound channels in the game from 5 to 8, creating a more melodic soundtrack than in most other NES games.
This movie has an
Atlas Map encode
of Level 6, which shows the standard encode overlaid on a zoomed out map.
---
Latest Publications
Newest Submissions
Newest User Files/WIPs
Contribute
Want to
help
? Everyone has something they can contribute.