Welcome! Are you new to the site? If you've ever wanted to see how a superhuman would beat your favorite video games, you've come to the right place. We have videos of all the popular franchises: from
Super Mario Bros.
and
Sonic the Hedgehog
down to
Pokémon
and
Final Fantasy
. No matter what genre of game you prefer, be it adventure, platformer, puzzle, shooter or sports, we have them all. Please, visit
our welcome page
for an introduction, or check out our
Newcomer Corner
for some hand-picked recommended videos to watch.
TASVideos News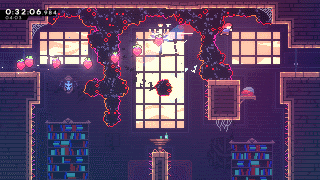 Watch
This is it, Madeline. Just breathe. You can do this.
Celeste
is a platform game released in 2018 and developed by independent game studio Extremely OK Games, who also developed
TowerFall Ascension
. It features Madeline, a young girl who sets on a journey to reach the summit of the titular mountain. Can she survive the many dangers that await her on her ascent?
This time,
EuniverseCat
,
fishmcmuffins
,
keylie
,
dahlukeh
and
Lanvilla
collect all 175 red strawberries, the moon berry, all 24 crystal hearts, all B-Side cassette tapes as well as completing every chapter (which also includes the B- and C-Sides as well as the recently released Farewell chapter) in a record in-game time of
1:16:51.335
.
---
There is also an
alternate YouTube stream
featuring audio commentary by EuniverseCat, fishmcmuffins and Chaikitty, a speedrunner of the game.
Latest Publications
Newest Submissions
| Date | Game | Time | By | Status |
| --- | --- | --- | --- | --- |
| 19 hours ago | Genesis Shadowrun | 31:36.37 | Daelixx | New |
| 1 day ago | A2600 Math Gran Prix | 00:49.93 | ShesChardcore | New |
| 2 days ago | NES Flappy Bro "Best Ending" | 00:24.46 | MrTASer | New |
| 3 days ago | Flash Meat Boy "100%" | 08:05.73 | slamo | New |
| 3 days ago | Flash Cursor*10 | 01:40.13 | A Sickly Silver Moon | New |
More…
Newest User Files/WIPs
Contribute
Want to
help
? Everyone has something they can contribute.