Welcome! Are you new to the site? If you've ever wanted to see how a superhuman would beat your favorite video games, you've come to the right place. We have videos of all the popular franchises: from
Super Mario Bros.
and
Sonic the Hedgehog
down to
Pokémon
and
Final Fantasy
. No matter what genre of game you prefer, be it adventure, platformer, puzzle, shooter or sports, we have them all. Please, visit
our welcome page
for an introduction, or check out our
Newcomer Corner
for some hand-picked recommended videos to watch.
TASVideos News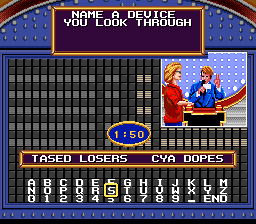 Watch
Family Feud (1993) follows the premise of the American TV show of the same name. Two families are pitted against each other in a contest aimed at guessing the results of a public survey. In the first two rounds, the first family member to press a button and give a concise answer that happens to be on the survey earns points. After that, this family can continue guessing answers on the survey, with control switching to the other family on incorrect guesses. After two rounds, the family with fewer points is disqualified, and the last round allows two members of the remaining family to list several of the existing survey answers in a very short time period.
Heisanevilgenius's family, The As, ignores all that and goes with elaborate and utter nonsense instead… only to find the host accepting their answers as correct. The other family, The Halls, doesn't even get the chance to insert a word, proving the racial prejudice of the host. Watch the game and see for yourself.
If you liked how this movie abuses a text recognition system, also see the trouble that TAS tools bring to a
drawing recognition system
.
Note: Some answers contain coarse language.
Latest Publications
Newest Submissions
| Date | Game | Time | By | Status |
| --- | --- | --- | --- | --- |
| 1 day ago | GBA Star Wars: Episode III - Revenge of the Sith | 10:39.19 | Superposition | New |
| 1 day ago | NES Super Mario Bros.: Minus World And Beyond " -3 completion" | 02:34.41 | MrTASer | New |
| 3 days ago | N64 Tigger's Honey Hunt | 25:57.28 | EZGames69 | New |
| 3 days ago | NES SuperBob "Any%" | 01:58.69 | MrTASer | New |
| 3 days ago | SNES Super Mario All-Stars + Super Mario World : Super Mario Bros. "Any%" | 06:14.12 | MrTASer | New |
More…
Newest User Files/WIPs
Contribute
Want to
help
? Everyone has something they can contribute.