Welcome! Are you new to the site? If you've ever wanted to see how a superhuman would beat your favorite video games, you've come to the right place. We have videos of all the popular franchises: from
Super Mario Bros.
and
Sonic the Hedgehog
down to
Pokémon
and
Final Fantasy
. No matter what genre of game you prefer, be it adventure, platformer, puzzle, shooter or sports, we have them all. Please, visit
our welcome page
for an introduction, or check out our
Newcomer Corner
for some hand-picked recommended videos to watch.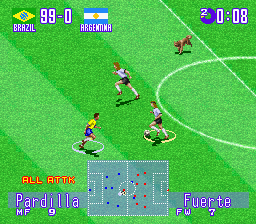 Watch
When watching sports, you're usually prepared for the unexpected. But what happens when it verges into the outright impossible?
In this superplay, watch in awe as a team is forced to score on its own goal ("OH NO! OWN GOAL!?"), the scoreboard mysteriously records extra goals that were never scored (and even rolls backwards at one point), and the very laws of physics themselves seem to get completely broken.
Latest Publications
Newest Submissions
Newest User Files/WIPs
Contribute
Want to
help
? Everyone has something they can contribute.