Welcome! Are you new to the site? If you've ever wanted to see how a superhuman would beat your favorite video games, you've come to the right place. We have videos of all the popular franchises: from
Super Mario Bros.
and
Sonic the Hedgehog
down to
Pokémon
and
Final Fantasy
. No matter what genre of game you prefer, be it adventure, platformer, puzzle, shooter or sports, we have them all. Please, visit
our welcome page
for an introduction, or check out our
Newcomer Corner
for some hand-picked recommended videos to watch.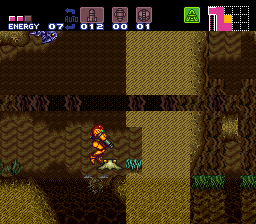 Watch
Super Metroid is a platform game and a follow-up to Metroid II. Like the previous games in the series, it is not divided into separate levels; the planet Zebes is an open world which Samus traverses back and forth. This world is divided into rooms separated with doors which must be shot to be opened. Shooting is also used to open up secret passages, some of which contain nifty bonuses, but finding most of them is required to proceed in the game.
This run not only beats the
previous any%
but also obsoletes the previous
reverse boss order
TAS due to similar routes. This is an improvement of 1:40.95 over the predecessor movie. As well as an improvement over the reverse boss order TAS by 10:40.51.
Sniq makes short work of Mother Brain and her space pirates, largely due to a major route change. Please read the author's
submission notes
for more information.
---
Every second encode link leads to a version where all graphics have been fixed.
Latest Publications
Newest Submissions
| Date | Game | Time | By | Status |
| --- | --- | --- | --- | --- |
| 13 hours ago | GBC aladdin "%any" | 17:16.06 | eladogGames | New |
| 17 hours ago | NES Godzilla: Monster Of Monsters "Password: Destr0y All M0nsters" | 06:56.55 | SpaceColonizer | New |
| 1 day ago | GC Mega Man Network Transmission | 50:52.10 | Pontus | New |
| 2 days ago | GBC Microidvania | 00:15.15 | MarioAtWork | New |
| 2 days ago | Genesis Animaniacs | 23:01.66 | The8bitbeast | Judging Underway |
More…
Newest User Files/WIPs
Contribute
Want to
help
? Everyone has something they can contribute.