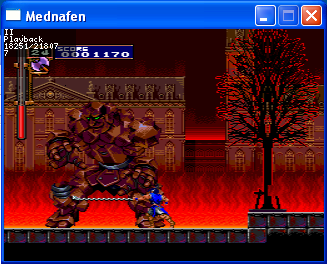 Mednafen-rr is a cross-platform multi-platform emulator released under the General Public License. The rerecording version, developed by paul_t and adelikat, is independent from the official project.
The emulator is commandline. However, the windows version comes packaged with a frontend (Mednafen-Front.exe).
---
Supported Platforms
The following platforms are supported on Windows:
TurboGrafx / PC Engine / SuperGrafx / CD-ROM² / SUPER CD-ROM² / Arcade Card CD-ROM
Atari Lynx
Neo Geo Pocket
NG Color
Wonderswan
Wonderswan Color
NES
The following platforms are only supported on Linux:
PC-FX
Sega Master System
Game Gear
Game Boy
Game Boy Color
Game Boy Advance
---
More info
---
Other Documentation
Some of this information conflicts with the above. When there is a conflict, the above documentation is how mednafen-rr works.
---
mednafen-rr
Current Downloads
Deprecated Downloads