Welcome! Are you new to the site? If you've ever wanted to see how a superhuman would beat your favorite video games, you've come to the right place. We have videos of all the popular franchises: from
Super Mario Bros.
and
Sonic the Hedgehog
down to
Pokémon
and
Final Fantasy
. No matter what genre of game you prefer, be it adventure, platformer, puzzle, shooter or sports, we have them all. Please, visit
our welcome page
for an introduction, or check out our
Newcomer Corner
for some hand-picked recommended videos to watch.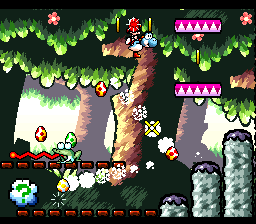 Watch
Super Mario World 2: Yoshi's Island is a vibrant, colorful and fun game that stars the popular Yoshi. From a technical standpoint, the game is very exceptional on the SNES due to its use of the SuperFX² coprocessor. The chip allows for many cool special effects that are otherwise impossible on the SNES.
This is a 100% completion of the game. It plays through all the levels and collects every item that contributes to end-of-level score: 5 flowers, 20 red coins, and 30 stars. By getting 100% completion in each stage, six extra stages are also unlocked. These are played at the end of the run, again with 100% scores.
The authors of the run have spent over three years working on this run, showing off plenty of egg juggling, precise shots, and other incredible antics. This run does not use certain glitches present in the other runs of the game (an
any% run
and a
warp glitch run
), but there should still be plenty to surprise you. Reading the
authors' lengthy comments
is recommended.
---
Note: The many graphical issues are a result of inaccurate emulation.
Latest Publications
Newest Submissions
| Date | Game | Time | By | Status |
| --- | --- | --- | --- | --- |
| 29 minutes ago | PSX Armored Core "100% no aborts, no out of bounds. " | 1:24:01.78 | The Brookman & Zinfidel | New |
| 2 hours ago | A2600 Star Wars - Return of the Jedi: Death Star Battle | 00:08.43 | ShesChardcore & jlun2 | New |
| 20 hours ago | Genesis Passing Breeze - An Arcade Adventure | 00:44.61 | MarioAtWork | New |
| 1 day ago | A2600 Othello "maximum score" | 01:37.84 | negative seven | Judging Underway |
| 2 days ago | Flash MURDER | 01:10.08 | Spikestuff | New |
More…
Newest User Files/WIPs
Contribute
Want to
help
? Everyone has something they can contribute.